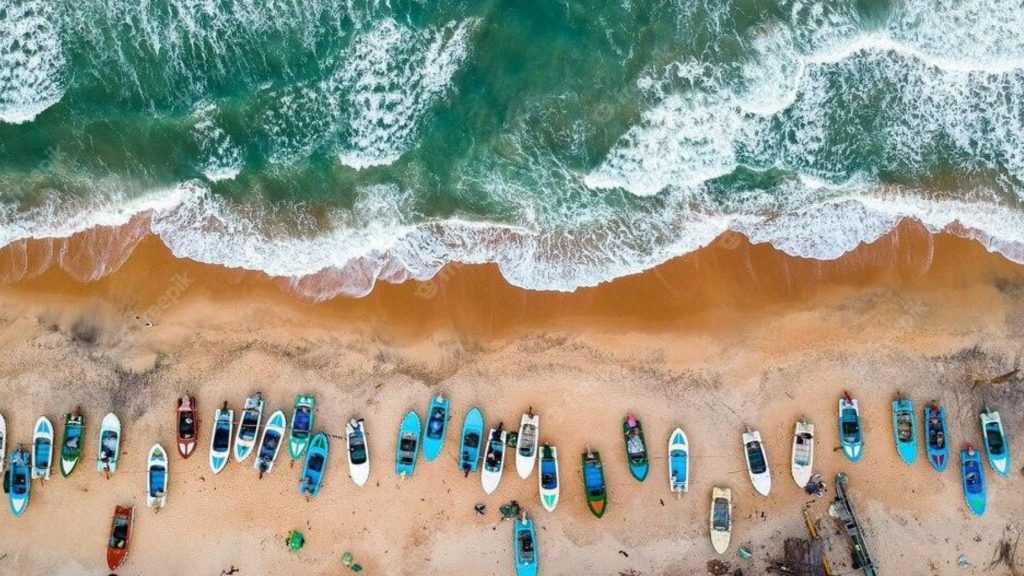 October to March is the best time to go to the beach. The beach is a peaceful and fun place to be in the city. Swargadwar is religiously crucial because it means "Door to Heaven." Hindus think that people who take a dip will be saved and go to heaven after they die.
So, people who want to bathe in holy water go to the nearby Mahanadi swimming spot. The Swargadwar market and the Jagannath Temple are close to the beach. Swargadwar is a holy place where people are buried, and it is close by. One of the places to go in Puri in two days for lunch, to learn about its religious importance, and to enjoy the beach breeze.
How to reach Puri Swargadwar Beach?
You can fly to Bhubaneswar and then drive 60 km to this beach city. You can also take a train to get here. Many trains run between Puri and India's big towns like Mumbai, Delhi, Kolkata, etc.
Where do you want to stay?
There are a lot of hotels on the beach in Puri. Here is a list of a few places that fit your price perfectly.
Budget hotels
The beach is 7 minutes from Manusmriti, a beautiful hotel. The rooms are a good size and have their bathrooms. A shared living room, terrace, kitchen, and clean yard exist. Great place to stay if you want to save money on lodging.
Mid-level accommodations
In Puri, I stayed at the Hotel Niladri. The hotel is right across the street from Swargadwar Beach. There are a few rooms that face the beach. I stayed in a room with a view of the garden, but there was no garden. Instead, we could only see a bunch of trash. But it didn't worry us too much because we spent most of our time on the beach. I recommend this hotel because it is close to the beach and not too far from the busy beach market.
Historical resort
Mahodadhi Palace is a beach-view lodge with a long history. It is in the middle of a busy beach market. It has all the beauty of the past and all the conveniences of today. From its balcony, the place has one of the best views of the sunset, and at their Ethnic Village restaurant, you can try real Odiya food.
What to eat at Puri Swargadwar Beach?
Who doesn't like a snack on the beach or a lovely dinner with a great view? I've found a list that will meet all of your needs.
Beachside food trucks
The beaches in Puri are an excellent place for hawkers. The beach shafts are open all day and serve tea and Maggi. The beach market becomes a great place to get street food in the evening.
Tea and Maggi: Widely available at all the seaside shacks, costing between 20 and 30 INR per plate.
Jhal Muri: It is a famous tea-time snack made of crunchy rice puffs in the Eastern belt. They don't have a permanent spot. But don't worry; they will find you and ensure you have this at least once on your trip.
Gup-Chup: It is one of the most famous and must-have street foods in Odisha. The hot potato filling and sour water will make your taste buds tingle.
Corn: Whether roasted or boiled, you'll receive it how you like it.
Seafood: Nothing tastes better than fish, crab, or shrimp just out of the oven. The best part is that you can tell them how to make it.
Desert: Milk ice cream and Khajja are essential when in Puri. The smoothness of the ice cream, which is like jelly, and the crunch of the Khajja will please your sweet tooth.
Restaurants
The most well-known foods in Puri are Odia and Bengali. You can get both at a lot of places. Here are the two best places that you should go to.
Ethnic Village Restaurant: It is in Mahodadhi Palace, and it specializes in Odia food. You have to try prawns. Also, you can choose to eat on the deck, which has a great view.
Sholo ana Bengali: It is a famous food chain in the eastern belt that serves Bengali food. There are many kinds of food to pick from. But ask if they are available before you choose the menu. Cutlets and chops of fish are a must-try for an appetizer. At the same time, the significant dishes were chicken kasha and dakbanglow.
Fun things to do in Puri Swargadwar Beach
Jagannath Temple
The last of India's four holy Dhams is the Jagannath Temple. When in Puri, you must go to this temple. The temple is always full of people, with long lines everywhere you go. People aren't allowed to bring mobile goods or bags into the temple. But there are lockers you can use to keep your things safe.
P.S. Don't talk to the salespeople at the temple's door. They offer you a temple tour where you can skip the line. But at every step of your trip, they ask for more money.
The market near the Jagannath Temple
The market is about 3 km from the temple's parking lot to the main entry. A great place to buy candy and other gifts. I suggest getting gifts at the Government Handloom and Expo Centre near the parking lot.
Netaji Museum
I'm a big fan of Netaji, and I've always wanted to visit this place. The museum is in Netaji Subhas Chandra Bose's old house, which is close to the temple and can be reached on foot.
Puri Beaches
Take a long walk along the Puri coast. From Puri Beach to Swargdwar Beach. You can stop and get some snacks if you want. Puri Beach and Golden Beach are the most popular because they are at the start of the Marine Drive road. But if you want peace, go to Swargadwar Beach and enjoy the peace there.
A lighthouse
Go to the tower on Swargadwar Road to see the ocean from every angle.
Dhaudia River's mouth
It is fantastic to see how well nature fits together. One of these views is seeing the Dhaudia River mix with the waves of the Bay of Bengal. The sea mouth is next to the Sterling Lodge Puri and is close enough to the lighthouse to walk there.
Puri is a great place to go on a weekend trip for people in the eastern belt and the perfect place to spend a vacation for the rest. A day won't be enough to see everything here. Spend at least two days here to get the most out of it.
MORE POSTS: