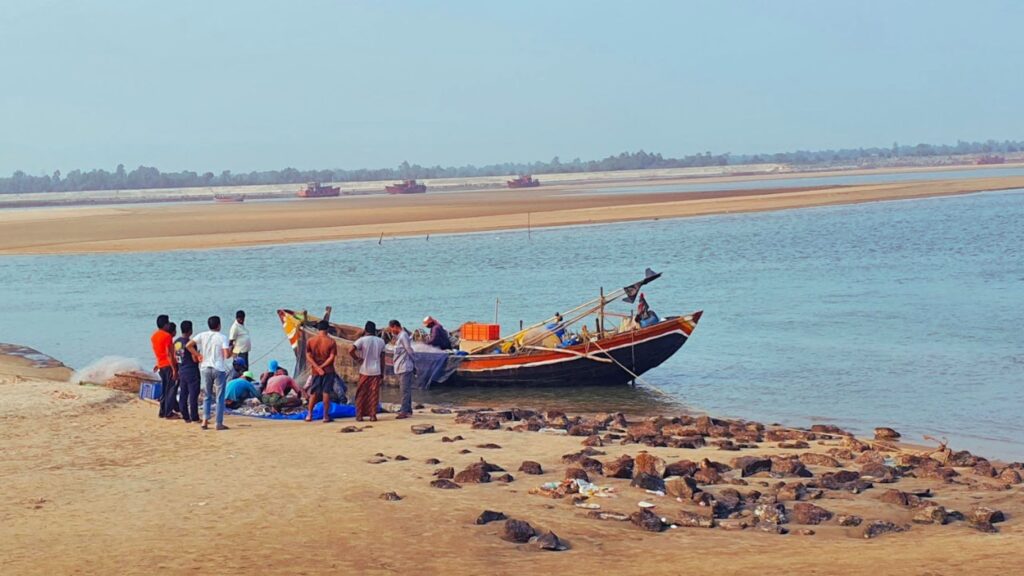 In this article, we are going to talk about everything in detail about Digha Mohana (with outstanding images) which is popularly known for its crowded fish markets.
Introduction to Digha Mohana
Digha Mohana is an awe-inspiring sight that brings together the majestic Bay of Bengal and the meandering Champa River. Mohana is just 2-3 km from Digha Beach. You can take an Auto or Taxi to easily reach there. It is a popular destination for tourists who come from far and wide to witness the spectacular sunrise over the sea.
Digha Mohana Location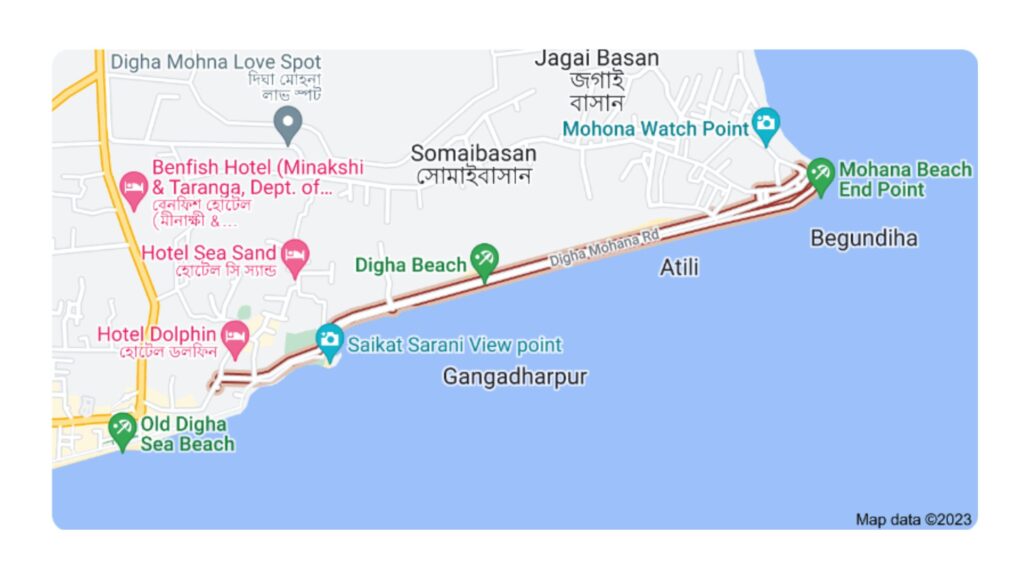 Digha Mohana is just 2-3 km from Digha Beach. You can take an Auto or Taxi to easily reach there.
About Champa River Which Originates from Digha Mohana
The Champa River, which originates from this Mohana, is an important part of the local ecosystem. There are individuals who rely on fishing as a means of sustenance, catching a diverse range of fish to support their livelihood.
Not only in Digha but in many parts of the world, fishing is a crucial activity for those living near water bodies. From small-scale fishermen in remote villages to larger commercial fishing operations, people rely on the abundance of fish in the water to provide for themselves and their families. Whether it's catching fish to sell at local markets or to consume at home, fishing is an essential source of food and income for countless communities around the globe.
Digha Mohana River Name
The Champa River, a crucial waterway in West Bengal, India, has its origin at the confluence of the Bay of Bengal and Digha Mohana. The river runs for approximately 160 kilometres, meandering through the districts of East Midnapore, Purba Bardhaman, and Hooghly, before finally merging with the Hooghly River. Its impact on the local ecosystem cannot be overstated, as it serves as a lifeline for irrigation, transportation, and various leisure activities.
The Champa River boasts a diverse range of flora and fauna, with its banks serving as a natural habitat for several wildlife species. As a result, nature enthusiasts and birdwatchers flock to its banks for a glimpse of its exotic wildlife. Furthermore, the river holds immense cultural significance, with several temples, ashrams, and other places of worship adorning its banks. Devotees and pilgrims also take a holy dip in its waters, believing it to possess divine purifying properties.
The Mohana is a bustling area that offers a glimpse into the local way of life. The dried fish shops, big boats, and various stalls selling everything from tea to souvenirs line the beach. The huge gardens full of trees add to the beauty of the place.
About Digha Mohana Fish Market
One of the main attractions of Digha Mohana is the international fish market. This wholesale market sits every morning and is where fishermen bring their daily catch to sell at wholesale prices. Fresh sea fish like Shrimp, Bhola, Shankar, and Vhetki are available here. Many tourists visit the market to see the variety of fish on offer and some even buy fish to cook and eat in their rooms.
Digha Mohana Road
The paved road that goes straight into the sea is a unique feature of Digha Mohana. Standing on this road, tourists can take in the magnificent view of the sea with their own eyes. The big waves of the sea crashing onto the shore and the red round dish-like sun rising from the middle of the sea make for a truly incredible sight. Here, you can make a video of yours in the crashing waves.
Walking along the beach towards Digha Mohana to witness the sunrise is an experience in itself. The sweet breeze of the sea and the incredible views of the waves make for a truly memorable experience. The fishing scene of the local fishermen is an interesting sight that adds to the charm of the place.
On the way to Digha Mohana, tourists can see the different coloured horses that are kept for beach rides. One can ride these horses around the beach, which is a fun activity for both kids and adults. Additionally, there are photo guys who can take pictures of tourists and print them out immediately, making for a fun keepsake.
It is worth noting that the smell of drying fish can be quite strong in some areas and may not be appealing to everyone. However, for those who don't mind, the atmosphere of Digha Mohana is truly unique and memorable.
Conclusion
In conclusion, Digha Mohana is a must-visit destination for tourists looking for a unique experience. With its incredible sunrise views, international fish market, and beautiful beach, this is a place that offers a glimpse into the local way of life while also providing a fun and relaxing vacation spot.
MORE POSTS: